Screen Guardrail
Transparent LED Screen as a Gardrail. Runoff resistance (IP65).
18mm tempered laminated glass - 10mm pitch LED - Stainless steel
All-in-one LED screen and guardrail set. One meter units can be assem­bled at will to run your rail­ings over great dis­tances. Near or far, you will give an attrac­tive image of your space, whether in retail spaces or passageways.
| | |
| --- | --- |
| Dimensions / section | 1000 x 1200 |
| Type de LED | SMD 2020 |
| Luminosité | 3000 - 3500 |
| Tranparency | 90% |
| Puissance | 580W |
| Étanchéité | IP65 run off protection (rain) |
| Pitch | 10mm |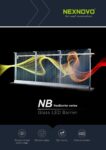 (pdf)